Outdoor wedding reception is a great idea of ​​many couples in this day and age. If you are looking for a beautiful, romantic, impressive and comfortable dream wedding, choosing a party with an open space is extremely suitable. Catching and anticipating this trend, many restaurants, hotels and clubs have built models with outdoor wedding parties to help couples have more choices on the most important day of their lives. The following Photographer In Ho Chi Minh will provide you with some of the most beautiful outdoor wedding venues in Ho Chi Minh City for your convenience.
Rex Hotel Saigon is located in the heart of Saigon city, the architecture here is luxurious and sophisticated with many different spaces and decoration styles to help customers have more choices in their stay. style of organizing your own wedding party. At Rex Saigon, customers can not only hold a traditional wedding party in the hall but can break the way by having an outdoor party with two different spaces for customers to choose from. There are two outdoor areas for customers to choose from: the rooftop garden area for weddings with over 200 guests, the rose garden area on the ground floor suitable for weddings of about 100-200 guests.
Coming here, you can be assured of the consulting staff and the dedication and enthusiasm in every act of service. Here simply is also extremely rich for customers with a variety of options, from traditional dishes to European-style dishes. Thanks to its luxurious, romantic space and excellent service, Rex Hotel Saigon is the most imaginative outdoor wedding venue in Ho Chi Minh City that you should not miss.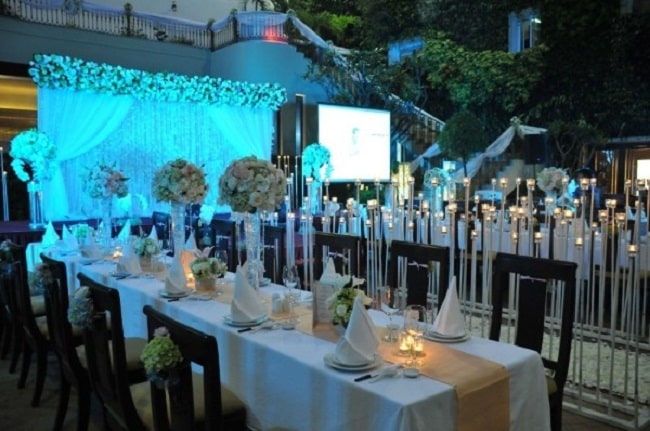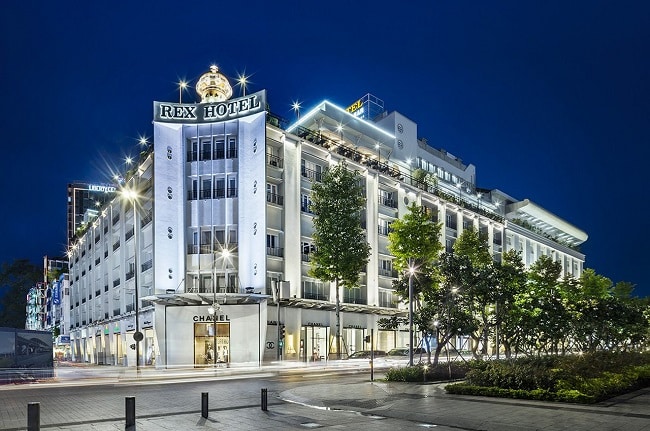 LOTTE HOTEL is located in the center of Ho Chi Minh City, very convenient to move with spacious and airy space. As a result, the hotel becomes a frequently paired venue for a sparkling outdoor wedding reception. Besides the lavish partying that attracts the eye, the hotel has an open area with a green profile that can accommodate up to 300 guests. The rounded profile with soft curves and green lawn is always carefully designed to create a luxurious wedding space, possessing a unique feature that is difficult to see in any wedding ceremony.
Special with the wedding party held at LOTTE HOTEL on the sunset afternoon will bring a shimmering scene beyond imagination for guests. The light will give the party wonderful colors that no artificial lights can play. Add to that, the green strokes from the periwinkle groves will contribute to bringing the space cool and peaceful.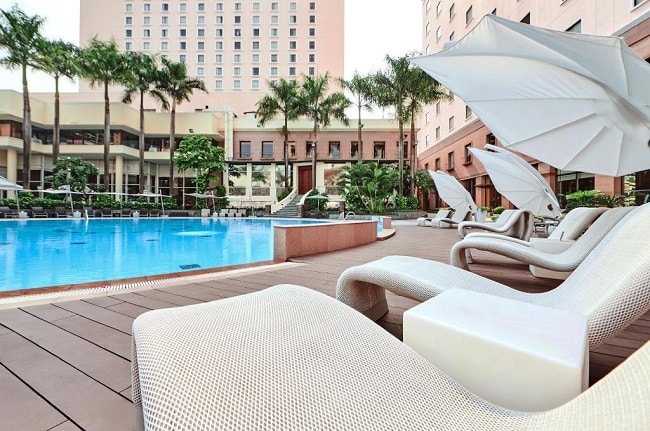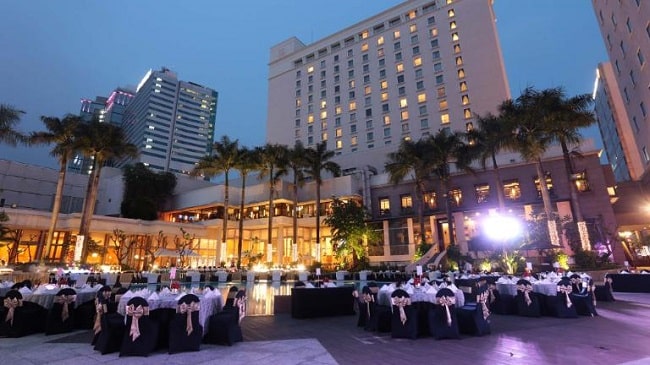 Tan Cang Tourist Area is next to the foot of Saigon Bridge and owns a large area stretching along the banks of the Saigon River. The wedding venue here with a capacity of over 300 people, Tan Cang is a perfect venue to help couples shine with a large number of guests for magnificent outdoor weddings. Priority by points in Tan Cang is highly appreciated by many people as the cost here is extremely affordable. Accompanying that is the very necessary and attentive service quality
In addition, the restaurant also offers many special promotions such as booking more than 10 tables with incentives such as Vouchers and coupons. Romantic with the natural scenery of water songs every sunset, riverside weddings, this place becomes an outdoor wedding venue in Ho Chi Minh City to help you fully preserve your happiness.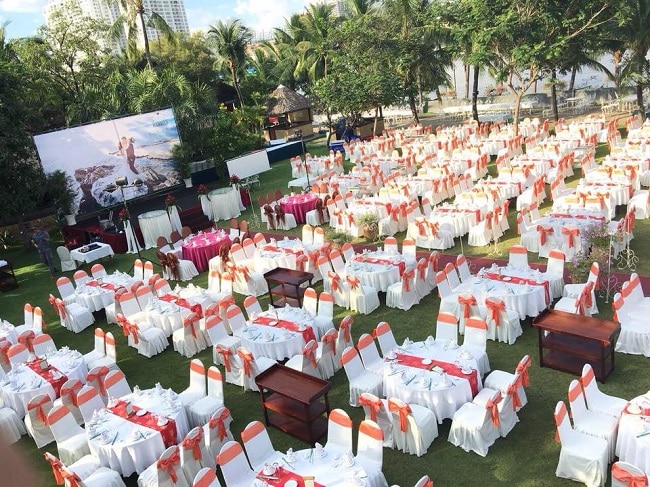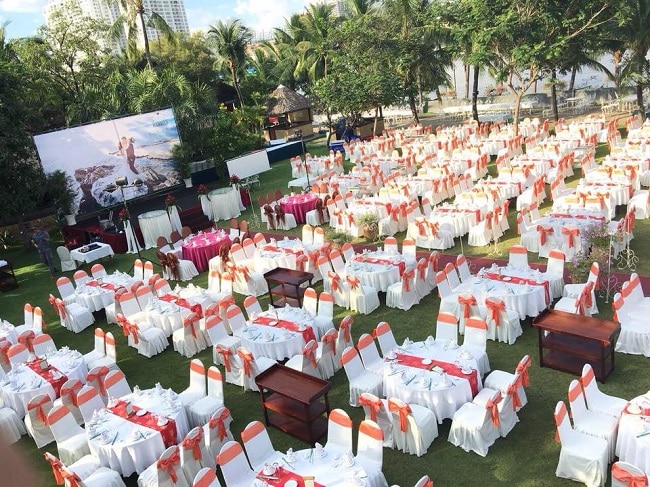 Continental hotel is a hotel with a very convenient location right in the heart of Ho Chi Minh City. The hotel has a harmonious style between modern and classic European architecture. Therefore, if you are a follower of the classic European wedding style, this place is the first choice for you. From the space, decoration style to the architecture of the hotel, all are classically styled.
The advantages when you hold an outdoor wedding at Continental hotel is that the hotel is centrally located, convenient for moving, the space makes the decoration very flexible, you don't need to worry about organizing an outdoor party. weather problems because here there is a flexible roof. The menu system is rich with more than 500 dishes in European and Asian styles for couples to choose from. This is a romantic outdoor wedding venue in Ho Chi Minh City and has a great view.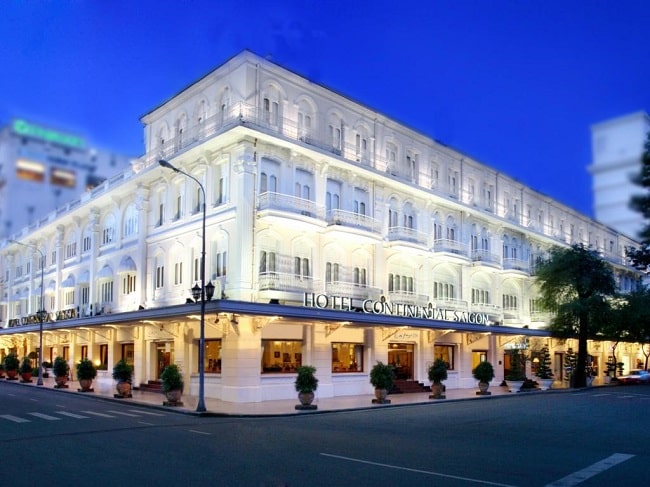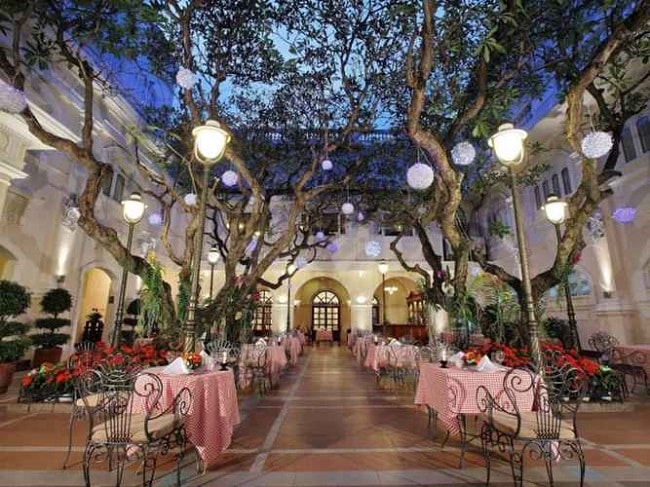 MerPerle Crystal Palace is located in the luxury urban area of ​​Phu My Hung. This is a very convenient location for people to move when located in the center of Saigon. This way, you can save money on travel costs. Crystal Palace has Asian-style decoration combined with European style, bringing luxury but equally cozy and romantic. A professional and dedicated design team along with an extremely modern equipment system will help decorate the space according to the wishes of customers. This outdoor party hall is also full of light and professional sound that can meet all party activities.
The menu at MerPerle Crystal Palace is very rich and changes regularly according to the season, so it is fresh and suitable for many guests. Holding a wedding party at you will be completely assured and immersed in the perfect happy atmosphere of the most important day of your life. The hotel also owns promotional services for customers such as service discounts, gifts for the bridegroom and the bride. Therefore, this is a great outdoor wedding venue in Ho Chi Minh City that you should consider choosing.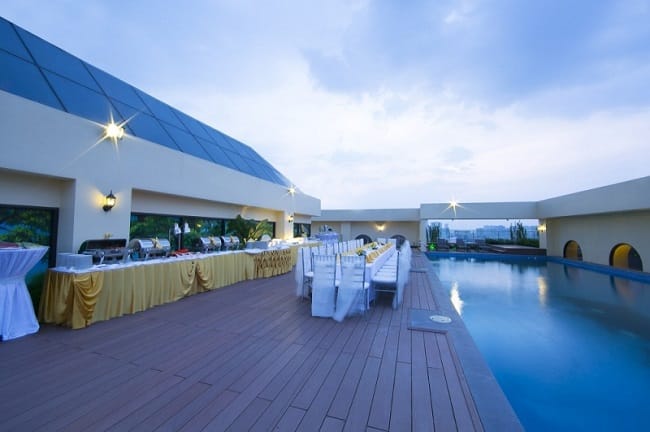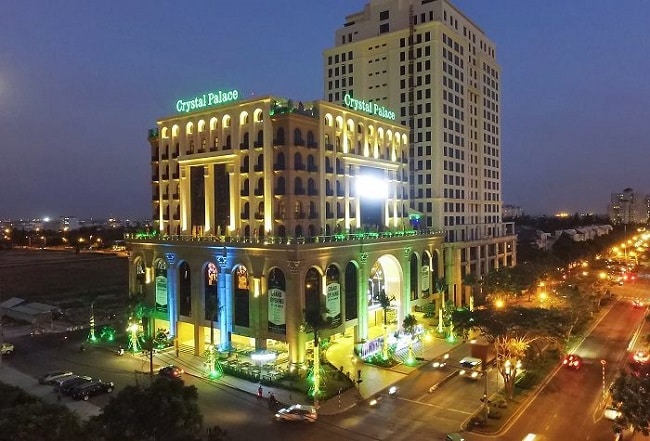 Park Royal Saigon is a long-standing and prestigious 4-star hotel belonging to Pan Pacific Hotels & Resorts Group. This is the largest hotel group in the Asia-Pacific region. This place possesses the soft and delicate beauty of East Asia combined with modern architecture and comfortable furniture from Europe. As a result, there will be many options for customers to organize weddings in different styles, including outdoor parties.
The hotel pool area is the ideal location for you to hold a romantic and dynamic wedding. A spacious space and can accommodate up to more than 400 people. If you hold a wedding party during the day, the two tones of purple and white will make your wedding space shimmering and brilliant. And if held at night, flowers, lights and so on will become effective tools for you. Thanks to that, this place has become an outdoor wedding venue in Ho Chi Minh City that many people trust and choose.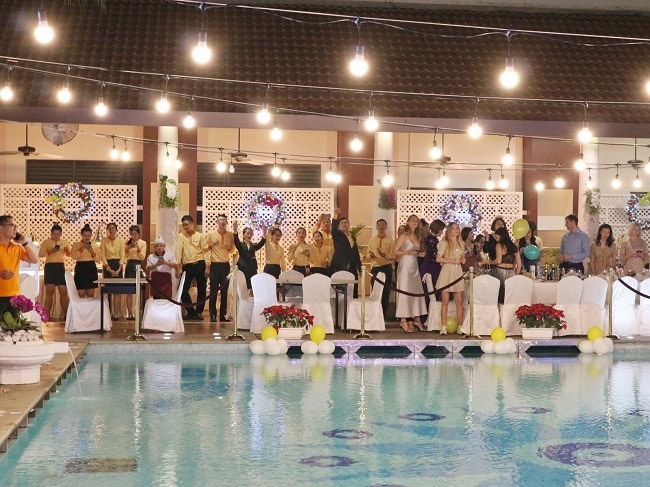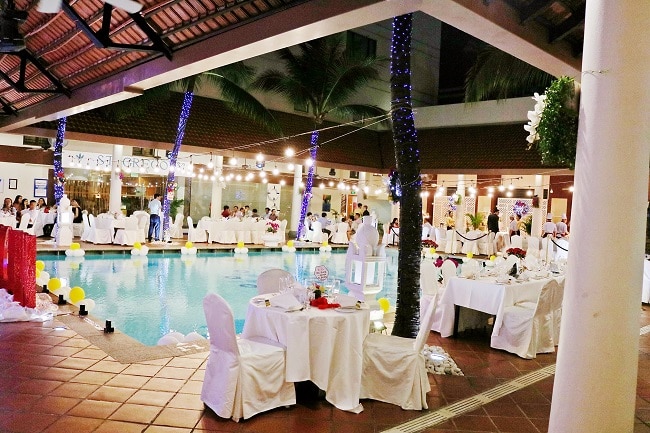 If you are looking for a great place to hold a wedding party around a beautiful small swimming pool. You, your friends and relatives can be in a shimmering space with romantic golden lights and candles. All guests attending can dance their best as a congratulation to the happiest couple in the party. SaiGon Chic is the choice just for you.
Beautiful pool view combined with modern space but not romantic features. SaiGon Chic is an address of special interest to young couples and is especially suitable for weddings with less than 200 guests. The classic and modern architecture at SaiGon Chic has created a very private space. Although the space here is simply decorated, it still exudes a unique romance that can only be found at SaiGon Chic. Couples will not be surprised when holding the most important party of their lives.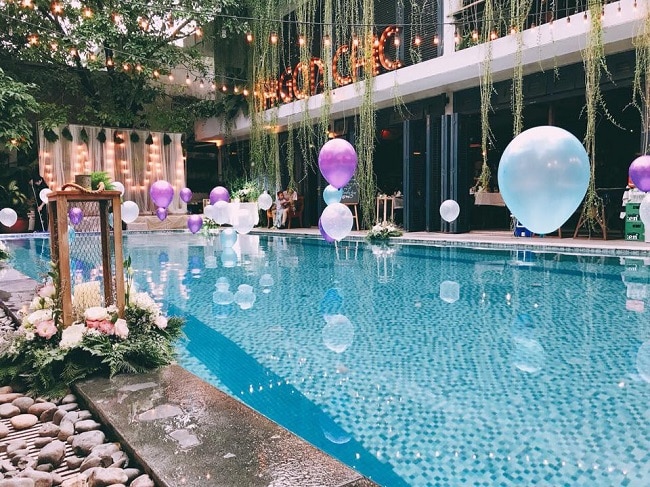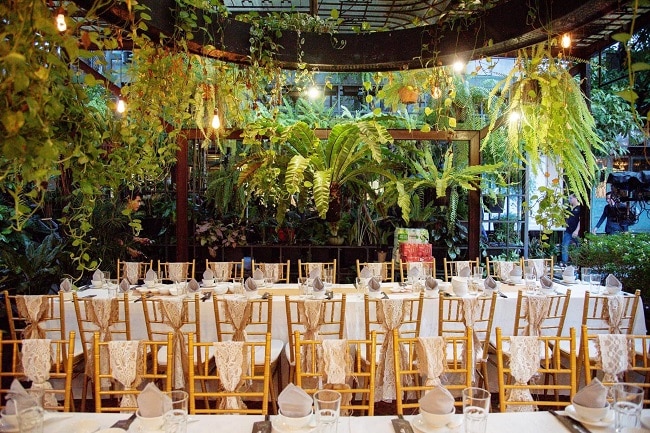 Villa Song Saigon is located in District 2 of Ho Chi Minh City, only 8km from the city center, so it is very convenient for moving. Originally, this Saigon River Villa belongs to Thao Dien village, but it has been separated for its own activities since 2013 and has become a favorite outdoor wedding venue in Ho Chi Minh City thanks to its romance and modernity. With a novel design and fully equipped facilities, this place has the convergence of modern beauty and natural beauty from nature.
When you hold your wedding here, you will be immersed in the airy space with each river breeze blowing up, bringing a feeling of freshness. Another huge plus here is the extremely rich cuisine for customers to choose from at a relatively affordable price. The service of Villa Saigon River is a special highlight that is highly appreciated by many guests. The staff at Villa Song Saigon is attentive, agile and enthusiastic, so customers can rest assured.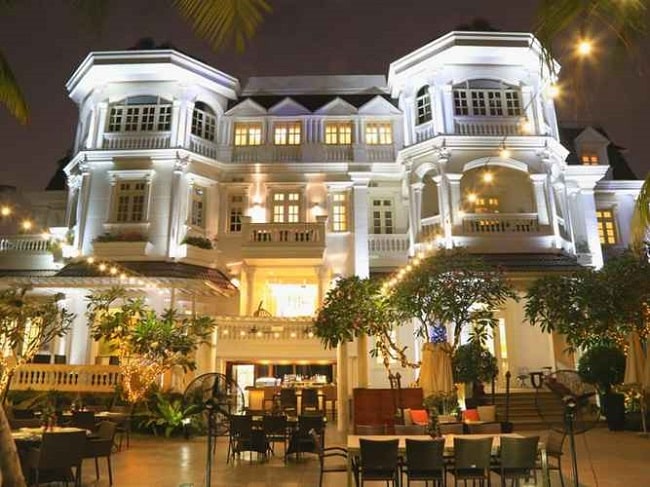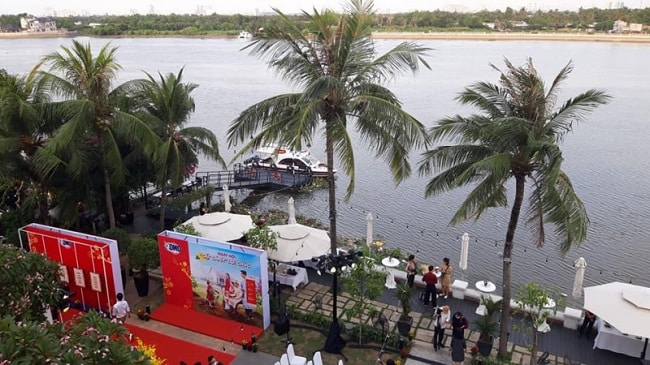 With an area of ​​​​up to 6,000m2 with 7 banquet halls of various sizes, Riverside Palace is the place that will turn the wedding day of couples sparkling and add more colors. Owning a typical European classical architecture but also with the subtleties of contemporary architecture, the restaurant will bring you a romantic and unforgettable wedding space.
Besides, the unique banquet hall of Riverside Palace is a romantic garden space located right on the banks of the Saigon River, so it will promise to be a wedding venue with many new features. With a capacity of up to 300 guests, along with the Riverside Palace garden, guests who are familiar with traditional banquet halls will see an interesting and unexpected innovation. Therefore, Riverside Palace is an outdoor wedding venue in Ho Chi Minh City that many people love and choose.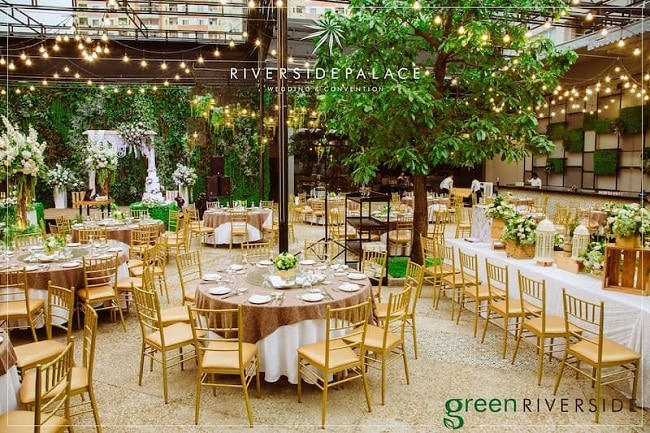 La Garden Restaurant is located about 2 minutes by motorbike from Thu Thiem Bridge, this place is known as a peaceful and romantic place with a view of the Saigon River. The wide green lawn is carefully cared for every day along with a large space when it can accommodate up to 300 guests, La Garden is one of the best choices for couples who are trying to find their own. Ho Chi Minh City outdoor wedding venue.
Especially with the view of the swimming pool facing the Saigon River with an extremely large space, the couple can be more flexible in choosing or combining both for the wedding party. Facing the Saigon River is the perfect plus for wedding spaces at sunset time. La Garden Restaurant can accommodate up to 300 guests and couples can choose from a traditional menu or choose a buffet.